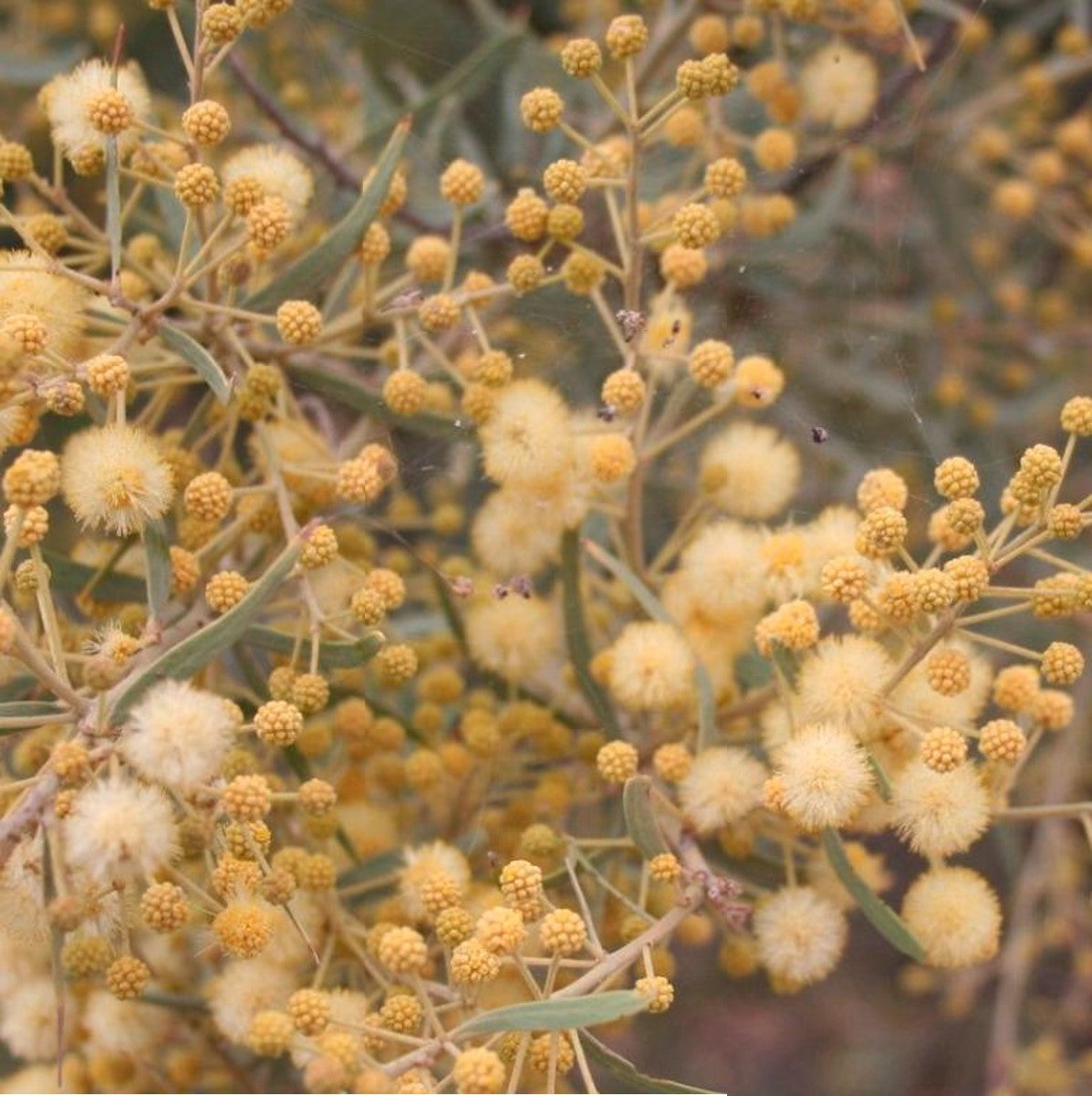 Wattle Seeds Loaf with Mountain Pepper and Leatherwood Honey
Experience a multi-layered concerto of native flavors that gushes out of this soft, crumbly, rich wattle seeds loaf. It is only lightly sweet when served on its own. If you want to satisfy your sweet tooth properly, I suggest to serve it with a spoonful of leatherwood honey spread on top of a slice. Leatherwood honey will add another layer of native flavor without masking the interesting tones of wattle seeds and mountain pepper. Before getting into what you will need and how to make it, read a little bit about health benefits of the native ingredients.
Acacia victoriae (wattle)
There are a number of Acacias (wattles) that are used as bushfood in Australia. The seeds of Acacia victoriae are typically ground and roasted prior to consumption. The roasting process imparts a beautiful coffee-nutty aroma and flavor on the seeds which comes through strongly in this recipe. Wattle seeds are a good source of protein (up to 20%) and fiber (over 30%). They are a considerably good source of magnesium, zinc, calcium and iron.
Wattle seeds are a very good source of selenium (30 micrograms per 100g, recommended daily dose of selenium is ~55 micrograms).
Tasmannia lanceolata (Mountain pepper)
Apart from the appearance of its fruit Mountain pepper has very little to do with the actual peppercorn plant (Piper nigrum). While Mountain pepper berries look quite like peppercorns, they are rather fruity in flavour and not very spicy. In fact, they are the leaves of Mountain pepper plant that will add some pungency to your meals. The compound responsible for the pungency is called polygodial (as opposed to piperin which is present in the "original" peppercorns.)
Mountain pepperberry is a great source of manganese ( > 33 mg/100g, recommended daily dose of manganese is ~2mg).
Wattle Seeds Loaf
INGREDIENTS (in the order of appearance)
3 TBS wattle seeds (Acacia victoriae, ground and roasted)
½ cup freshly boiled water
3 eggs
1 large ripe banana
115 g butter (room temperature) (perhaps not "Tasmanian Winter room" more like "European Winter room")
1 (generous) TSP of Mountain pepper (Tasmannia lanceolata, ground)
1 TBS Dutch cacao powder
50g dark chocolate (85% cacao content)
1 TSP baking powder
1TSP baking soda
1 + ½ cup wholemeal flour
1 grated beetroot
1/2 cup roasted hazelnuts
METHOD
Put wattle seeds in a cup a pour over freshly boiled water. Ideally let stand for a few hours or overnight.
Heat oven to 180°C.
Break eggs and separate whites and yolks.
In a glass bowl whip egg whites until they form stiff peaks and put aside.
In another bowl whip together egg yolks and banana until creamy.
Add softened butter and keep on whipping until well combined.
Add native pepper, cacao powder and soaked wattle seeds including the liquid and stir well.
Mix in melted chocolate.
Mix baking powder and baking soda into the flour and add slowly into the chocolatey batter until well combined.
Mix in beetroot and nuts.
Finally fold in the whipped egg whites.
Pour the mix in a buttered form.
Bake for 50 minutes.
Cool down for 5 minutes and take out of the form.
Let cool down the loaf properly before slicing it.
Serve on its own or with a little bit of leatherwood honey.
Keep in an airtight container for up to 5 days.
Wattle Seeds Loaf with Mountain Pepper served with ricotta and leatherwood honey.
BUSHFOOD
Fact number one: Increased intake of plant-based food contributes to our good health. Fact number two: Eating plants native to the area we live in will help us adapt to the environment (for example through adjusting our gut microbiome). As a result, eating bushfood in Australia can make your body (and mind) more resilient. At Herbae Thylacini we are passionate about connecting you to the plants that are native to this Country. In this project we do so by sharing easy-to-make recipes that include native plants. All our recipes are original and authentic.

Wattle photograph credit Ian McMaster for the Atlas of Living Australia.