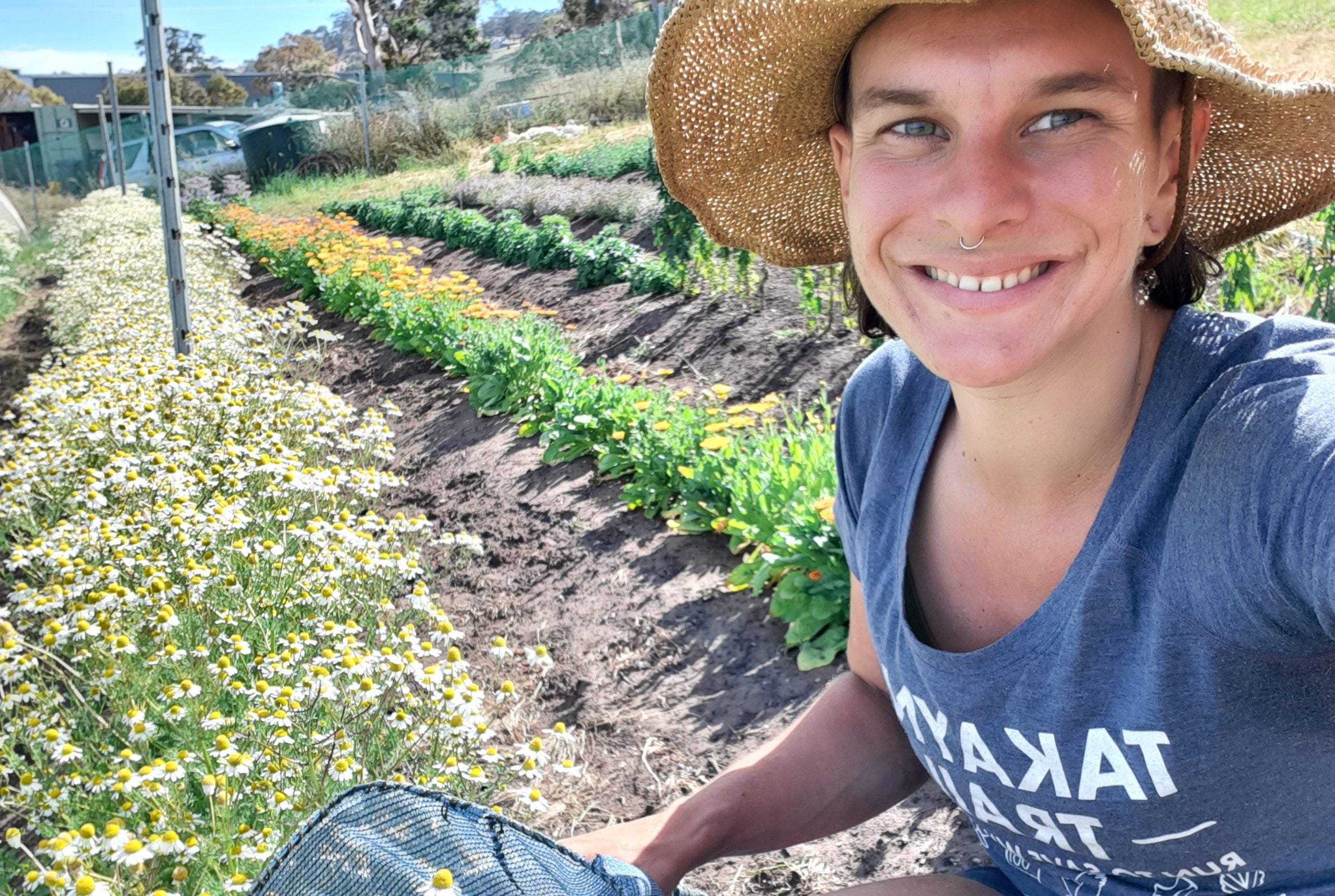 Local ingredients from Australian farms: a long overdue trend in Australian natural skin care.
In contrast to the natural skin care sector, local ingredients have become a symbol of luxury and health within Australian hospitality. Restaurants, cafes, food vans and their customers all sing odes to the local produce. Organic veggies from local farms, meat from local pastures and native bushfoods all became staple ingredients that we grew to associate with quality.
Contrary to this movement, it is still prevalent to ship food all over the world. We all tend to have Italian pasta, French cheese, Swiss chocolate or Spanish salami in our fridges and pantries. Despite the fact that local alternatives are available on the market. The more hidden (and therefore problematic) food transport miles (to name just one of many examples) are in the New Zealand fish baits imported to Australia to catch local sea creatures and export them further to China. Unfortunately, the billion-dollar ($US1.53bn according to Statista) Australian skin care industry looks more like the latter scenario.
The status quo of Australian natural skin care ingredients
Giant corporate skin care companies do not shy away from using harmful synthetic ingredients, microplastics and fossil fuels derivatives in their products. On the other end of the skin care spectrum are the indie beauty brands. Their makers endeavour to add plant-based ingredients into their creative formulations. For many, it is considered a badge of honour to source precious herbs, plant oils, butters and essential oils from all over the world. Via online bulk stores Australian formulators have access to providence from Morocco, Chile, Peru, India, Bulgaria, Spain or Indonesia in just a few clicks. It is not surprising then that:
The vast majority (up to 80%) of a company's product carbon footprint (levels of emissions) occurs somewhere along the supply chain, not within the company's in-house activities.
– C&EN, Nov 14, 2022: Pivoting to suppliers emissions, p.12
Calculating the travel distance of skin care ingredients
For example, have you ever thought of how many summed kilometres does a skin care product travel before it reaches you? The journey many skin care ingredients have to travel from overseas to an Australian customer is surprisingly long and dirty. A natural skin care product typically contains anything between 3 and 20 components. For a quick "back-of-the-envelope" calculation, let's consider the following example of a simple 8-ingredient Face moisturizer hand-made in Hobart.
SCENARIO 1
Ingredients: Chamomile floral water (Bulgaria), argan oil (Morocco), rosehip oil (Chile), apricot oil (Spain), pink clay (France), emulsifier and preservative (feedstock grown in the US), ylang ylang essential oil (Indonesia)
The total travel distance of all the ingredients between Hobart and the capital of each country of origin is shocking 112,000 km! This means together they would travel around the Earth nearly 3 times! And we did not take into account traveling of the ingredients between warehouses and distributors.
Here is a variation of the face moisturizer that is mostly made from Australian ingredients:
SCENARIO 2
Ingredients: Chamomile hydrosol (Hobart), hemp oil (Hobart), jojoba oil (Sydney), macadamia oil (Coffs Harbour), yellow clay (Perth), emulsifier and preservative (feedstock grown in the US), native essential oil (Sydney)
This ingredient bundle still has a lot to travel: nearly 40,000 km will take it around the globe once! The largest contributor to this distance are the emulsifier and preservative.  They can both be natural but the feedstock (e.g. olive oil, sugar cane or corn) is typically not grown in Australia.
In our last scenario let's consider a face moisturizer made from Australian ingredients and containing no emulsifiers:
SCENARIO 3
Ingredients: Apricot oil (Sydney), hemp oil (Hobart), macadamia oil (Coffs Harbour), apricot oil (Sydney), sunflower oil (Sydney), Calendula + Chamomile + Lemon Balm (all Hobart)
This happens to be the composition of our Calendula & Lemon Balm Face Oil but it is not the point. The point is that the traveling sum of these locally sourced ingredients in this particular product is 4,660 km.
Let's sum it up
In the examples above, we ended up with 110,000 and 40,000 and 4,660 km of travel distance. The travel distance ratio for the three scenarios is 24:8:1. It means that for every single kilometre a "locally-sourced" version of this face moisturizer travels, the "imported" versions cover 8 or 24 kilometres, respectively.
In other words, to make the same environmental impact* you would have to buy 8 or 24 local products made from Australian ingredients in place of 1 product made from imported ingredients.
To decrease the cost of ingredients, Australian distributors typically import larger amounts which they store in their warehouses. This consequently decreases the "absolute" travel distance of imported ingredients (and our face moisturizers). However, the travel distance ratio for "imported" x "local" products remains the same. Moreover, storing large amount of ingredients for what can be a long time presents us with further problems.
Imported ingredients: the black box of skin care
To ensure high quality of an ingredient that comes from across the globe is not an easy feat. There is a palette of questions that both formulators & customers should ask:
Where do these ingredients REALLY come from?

What are the names of the people who grew / harvested them?

How many seasons ago were the plants harvested?

Who made the extracts and when?

How long have they been in transport?

Did they sit on shelves in warm warehouses for months or even years?
The list of unanswered questions goes on and on.
Local is BETTER (and it should be the new black)
It is way easier to get answers when formulators source plants, herbs and other ingredients locally. As a result, they are well aware that: Monica and Sonia have meticulously planted calendula seedlings in Spring. The duo lovingly cared for the herbs throughout Summer. You know that at the height of Summer they carefully hand-picked the flower heads. These were skilfully dried in a clean environment. Finally, you can rely on receiving a call the moment their herb is ready for pick up. On the picture below you can easily see a difference between locally sourced plant ingredients and imported herbs.
Clockwise from top left corner Left: Tasmanian calendula, imported imported Tasmanian chamomile, imported chamomile.
Australian natural skin care: local ingredients x imported ingredients
The locally grown calendula and chamomile are full of life, colour, aroma and that means full of bioactive compounds. These are your antioxidants and anti-aging components of natural skin care! But wait, there is more!
Apart from the discussed lower travel distance and higher quality & transparency, using locally grown herbs and ingredients in skin care offers additional advantages:
They support local biodiverse farming.
They enable the industry and the consumers to celebrate local cultural heritage, landscape and nature. This is especially valid for native ingredients which we integrate into Australian skin care more frequently.
Local ingredients support local economy. They keep dollars circulating among your family, friends, neighbours, among local farmers, growers, herbalists and makers.
* The topic of "sustainable skin care" is of course way more complex. It is not only about where the ingredients come from but also about:
How the ingredients are produced.

The type of packaging and how it is manufactured.

Skin care routines gone so long that you need 10+ products to complete them.

Low-quality products which you have to buy more frequently.

What is actually natural and what is not.